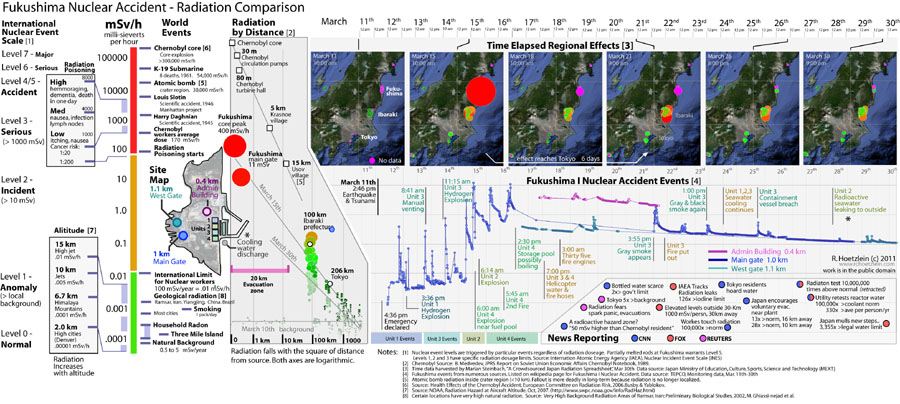 Fukushima Nuclear Radiation Map
. Click for high resolution. Image in public domain.
FUKUSHIMA NUCLEAR RADIATION MAP
The Fukushima Radiation Comparison Map shows several aspects of the 2011 Fukushima nuclear disaster during the first few weeks that events unfolded. Based on radiation data available from MEXT (Ministry of Education, Culture, Sports, Science and Technology in Japan), the map shows radiation levels at the site during a two week period from March 11th to March 30th, 2011. Key accident events are mapped with correlation to live radiation data (bottom right). Comparisons to other major historic nuclear accidents are all mapped according to common scale in mSv/h, millisieverts per hour (left side).
IBARAKI PREFECTURE ANIMATION
This work follows the development of visual communication through information visualization in the wake of the Fukushima nuclear accident in Japan. While information aesthetics are often applied to large data sets retrospectively, the author developed new works concurrently with an ongoing crisis to examine the impact and social aspects of visual communication while events continued to unfold. The resulting work, Fukushima Nculear Accident – Radiation Comparison Map, is a reflection of rapidly acquired data, collaborative on-line analysis and reflective criticism of contemporary news media, resolved into a coherent picture through the participation of an on-line community.
TOKYO LOW-LEVEL RADIATION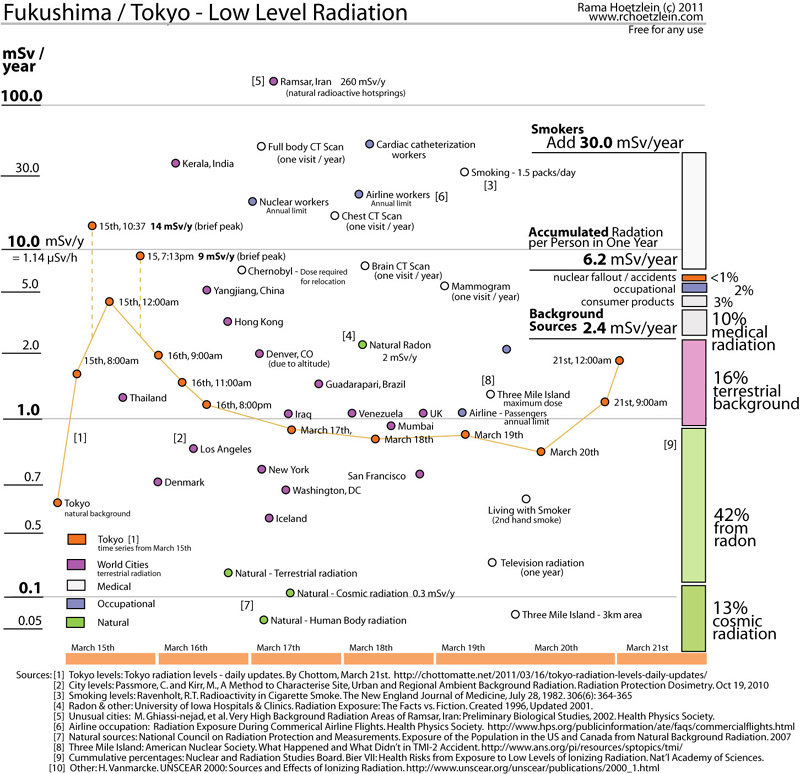 This scatter plot shows the levels of radiation recorded by Geiger-counter in Tokyo over 7 days from March 15th to 21st. These values are compared with terrestrial background radiation in other cities in the world. Note, for example, that some cities such as Yiangjing, China emit 5.0 mSv/year naturally. Certain unique places such as Ramsar, Iran emit 260 mSv/year due to natural radioactive hotsprings. Also shown are radiation levels due to cosmic background, radon, and medical uses. Radiation is cummulative, and the average annual radiation per person in the US is 6.4 mSv/year. 42% of this radiation comes from natural radon in the air. 10% comes from medical radiation. Typically, a single visit for a Chest X-ray, or CT Scan can provide the total budget of medical radiation for a whole year. CT Scans are considerably more radiant, giving off 18 mSv/dose for a Chest CT, and 40 mSv/dose for a Full body CT, whereas a normal X-ray is 0.06 mSv/dose. Smoking is a major contributor to annual radiation, adding 30 mSv/year when smoking 1.5 packs per day. This is significantly above the 6.4 mSv/year typically received for one per person. A television emits slightly above the natural background radiation.
The result of these findings is that direct radiation emitted from Fukushima presented no cause for concern. A level of at least 10 mSv/year would need to be sustained — for the whole year — to make it a significant contribution to our annual radiation intake. Values in Tokyo currently average around what is typical in Denver, Colorado. Hence, elevated concern due to direct radiation is not warranted at this time.
The maps above examine direct electromagnetic radiation and particulate scattering in the air during the time of the events in 2011. They do not address consumption of radioactive particles by fish and animals, absorption by soil, and dispersion of radioactive waste water in the Pacific ocean. These later processes may contribution much more significantly to the long term effects of the Fukushima accident.
Update 2014
Events at Fukushima continue to unfold. Recently the original cement canopy, a cap used to contain the disaster, is being removed for the first time:
TEPCO removing protective Fukushima canopy for most dangerous op yet
Since the event, other authors have investigate the long term health effects of Fukushima in greater detail:
Worldwide health effects of the Fukushima Daiichi nuclear accident
Meanwhile, Japanese residents continue to report high levels of radiation, high stress due to unknown risks, and little knowledge about the actual risks and dangers in the areas around Fukushima. Much of this is due to lack of transparency in government recovery and cleanup efforts:
Fukushima residents report high levels of stress two years since radiation scare